Personally, I think men are really hard to buy for and by the amount of visits this post got last year, I am not alone. My default gifts – scarves, gloves, or a nice sweater – just don't work if your recipient lives in Florida most of the year. So I have to get creative. Luckily I had a brainstorm session with Pragmatic Mom. What did we come up with? Well, there is the ever-popular sports themed gifts. Golf, tennis, any sport that your father or father-in-law might love. If they like the same sport, and you can get away with it, give them the same gift. Guys don't usually talk about, well anything, so you are pretty safe that they won't compare gifts – I can't promise that this will work for your mother and mother-in-law.
For instance, my dad is a gadget guy and my husband's dad is not, but both would love a digital photo frame (especially one pre-loaded with images of adorable grandchildren). If you want to make it more personal, have siblings also send tech-y grandpa CDs of pictures, jpegs or even a flash drive. He can set it up, no problem. Or pre-load it with pics for someone who doesn't care for that activity, then re-package the frame an you are good to go.
Also, if he is a techie, great gifts to support his tech…iPad cases are everywhere, phone covers and accessories (a huge blinding wall of them over at the Apple Store, Marshall's has some in the really well-stocked and long checkout aisle where they get you to make impulse purchases now.
There is always a tie – really? Did I just write that? Yes, not just any ties but a Hermes tie or a Ermenegildo Zegna tie. If you need to make a very nice impression then this is the way to go. Big bucks – $180 for Hermes and about $175 for Zegna (although I am a bargain shopper and have seen the Zegna for less). Filene's Basement is going out of business (so sad – I love that store and have great stories about it – I guess that is for another time) and they still have lots of great stuff – I was there yesterday.
Books!
You know I am a bit of a book freak – what, you didn't notice, really? – I head to my local independent bookstores; Newtonville Books or New England Mobile Book Fair but I do have to admit that the nearby Barnes & Noble does do a great job of suggesting books as well, and, yes, I do shop at Amazon, too. Love that super saver shipping.
Go to the Best Sellers List in the NY Times for popular, NPR for funkier offerings and
For a sports enthusiasts – especially of one particular team – it is easy – there are tons of shirts, hats, and paraphernalia – go to the team website or your local sporting goods store (especially nice if you don't support the same team, you look gracious and maybe a little heroic). For the sporty guys, just go for nicer stuff than he would buy for himself. For a golfer – go to Titleist and order personalized golf balls (with their name or nickname). For your tennis player, get tennis balls, some court time (with you? not me, this is a gift, not a punishment) at a place they don't usually play. Runners are a cinch – new UnderArmour long sleeve shirt – about $50-60 or some running gloves, always welcome in New England.
Architect or Engineer types? Don't overlook building kits like this from Frank Lloyd Wright and Lego – not cheap – about $100 at Target.
Is your dad or father-in-law into building or fixing stuff? Easy! Head on over to Home Depot, Sears or Lowe's and grab a gift card (too easy?) a Craftsman tool kit or if you really want a big gift – go for this rolling cart.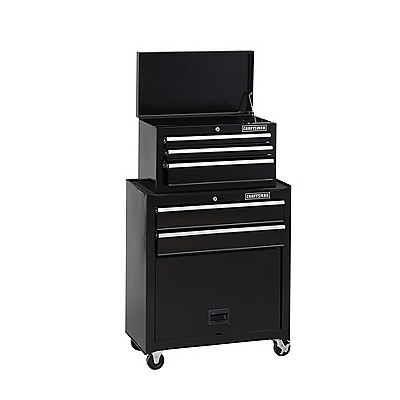 Don't forget the experience gift – a pair of tickets to a game or event – whether it is theatre, sports or concert. Maybe you will even get invited to go along.
Does he love the Red Sox? Boats? Architecture? Nature? Check out this site for gorgeous photographs stretched on canvas – Sharon Schindler Photography.
Now, this brings us to the Mothers and Mothers-in-law, be sure to make the gifts of equal value! Obviously, you know them best – but here are some thoughts that Pragmatic Mom– ever the diplomat – put together.
The 12 Days of Shopping
Dec 1: Make Your Own Gifts GRANOLA, Amazing Granola from Nigella Lawson versus Amazing Granola Bars from The Barefoot Contessa
Dec 2: Kids Make Gifts CRAFT (ModPodge versus Clove Fruit)
Dec 3: Personalized Gifts (Fancy Address Stampers versus Pretty Papers Giveaway)
Dec 4: Father-in-Law/Dad and Mother-in-Law/Mom
Dec 5: Tutors/Teachers
Dec 6: High Tech/Low Tech
Dec 7: Hostess/Doing Good and Getting Something
Dec 8: Sanitation Engineers, Mail Carriers, Hairdresser, Delivery People, Babysitter, Cleaning People, Dog Walker/Dog Trainer, etc. (a.k.a. who else did I forget?)
Dec 9: Husband, Me (Our Own Wacko List); Capability:Mom Husband/Wife
Dec 10: Dog/Cat
Dec 11: Quick Gifts from Whole Foods versus Gourmet Food Store
Dec 12: 'Cause I Am So Together, Last Minute Home Made Gifts: Cookies & Personalized Holiday Tags